Legavos is my attempt to build the simplest mech-warfare robot that I can - both because the complexity of a build has proved to much for me in the past and because hopefully a super-simple bot will inspire some others locally to build their own as well.
Media: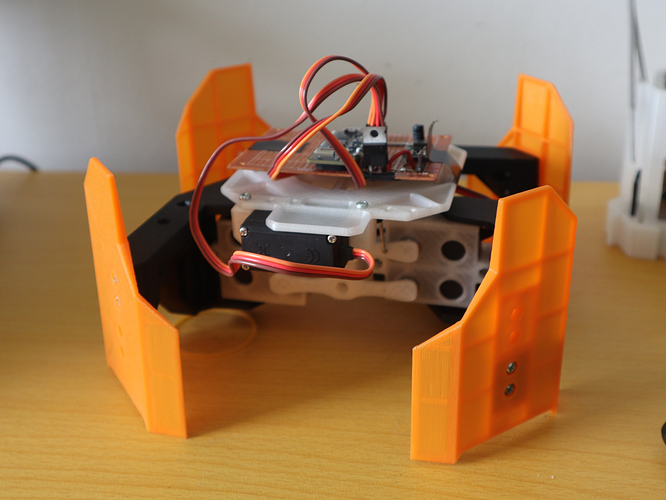 First steps:

Design notes
The design is based on Gertlex' Twitch, but adapted for quadrupedal form. (This is a statically stable quadruped, I didn't see anything in the rules precluding static stability from quadrupedal mechs.)
This design requires only three servos for the chassis, which makes things simpler both mechanically and electrically. Control is done via the ESP32 chip, which has everything needed and it's programmed in micropython - again something to make development easier.
Files Repository: https://gitlab.com/sdfgeoff/legavos/
Mechanics
Specs as of video above:
AUW: 524g
Max Operating AUW: 1kg (at 1/4 servo stall torque)
Footprint: 20cm x 20cm
Theoretical max speed: 24cm/sec (not shown in video above. This is probably not achievable, but I'm hoping for >15cm/sec)
Step height: 2cm
With the current mechanics the payload could be doubled (to 2kg) at the cost of halving the speed, but I'm not sure the chassis is stiff enough for that. The chassis is mostly 3D printed, and needs just a handful of 5x11x4 bearings and m3x15 bolts to assemble.
Electrics
Servos: 3x standard MG996R servos
Brain: ESP32 running micropython. Internal loop rate of 50Hz
Battery: 2S lipo
This is a very cheap bot. The servo's were bought for about $5 from china a couple years back. They are really horrid (±5 degrees backlash), but with this type of mechanics, it doesn't matter so much.
Development plans:
Mech: Design turret slew system
Soft: Fix the internal event system so it doesn't consume 30% of the CPU time looking for where to route events.
Soft: Fix walk cycle transitions (rapid changes in commanded velocities result in feet dragging or sudden jerks)
Elec: Mount up the camera/video system
Soft: Add support for camera feed to control software
Elec: Add in battery voltage monitoring
Mech: Armament.
Mech: Design gun tilt system
Mech: Possibly find a way to mount batteries on the bottom of the mech to lower CG
Soft: Switch from wifi-based networking to something else